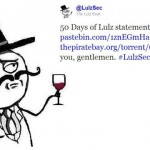 There have been many db releases from the twitter account @lulzboatR.  Many people believe that it is not the same people, it could be anyone, we really don't have any proof that it is, or is not anyone new.
Their recent hacks consist of 170k leak of user accounts from MilitarySingles, the SQL database dump size is 570mb, and they left this message:
 LulzSec is SB,Fuck!
Cssorp.com has also been hacked by the LulzSec Reborn, LulzSec posted a Pastebin link about the hack,  http://pastebin.com/GJgLRWHn.
Also, LulzSec Reborn says in a tweet to join their irc channel:
Join http://irc.anonops.com chan -> #LulzSecReborn
It seems as though they will keep on this rampage of hacking high profile sites, it may not be the original people being the Lulz, but they do have some skill.