The huge file-sharing website, Megaupload is scheduled to relaunch, five years after being raided and shut down by the FBI.
After its owner, Kim Dotcom, was detained and indicted for allegedly breaking copyright legislations, the site went down in 2012. The New Zealand citizen was accused of running the entertainment sector $500 million because of user-uploaded material – including movies and music – located on the website.
Megaupload, established in 2005, had over 150 million members and 50 million regular visitors. At some point, it was believed to be the 13th most commonly frequented website online.
Dotcom revealed his plans in a number of tweets on Friday, claimed most of the Megaupload users would manage to get their accounts reinstated with premium privileges in 2017.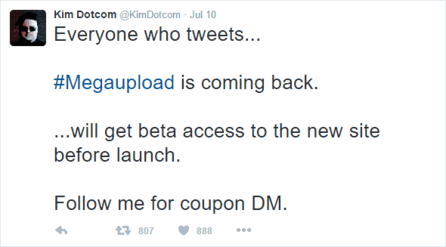 When Megaupload had over 150 million users at its peak, Dotcom was earning millions. When he was arrested at his Auckland estate, police confiscated 20 luxury cars, art and millions invested in local banks.
Dotcom is set to face a judge again next month in Auckland to face extradition to the U.S.