In a recent development, Samsung has informed its customers in the United Kingdom about a significant data breach that has compromised the personal information of numerous individuals. The breach specifically affected customers who made purchases through the company's UK online store between July 1, 2019, and June 30, 2020.
The company detected the breach on November 13, 2023, and determined that an unauthorized individual exploited a vulnerability in a third-party business application to gain access to customer data. Samsung has refrained from revealing the identity of the hacker involved in the breach.
Personal information at risk includes names, addresses, phone numbers, and email addresses. However, Samsung has reassured its customers that financial information and passwords remained secure and were not accessed during this breach.
The notification email sent by Samsung to affected users stated, "On 13 November 2023, it was determined that an unauthorized individual exploited a vulnerability in a third-party business application we use, and that some personal information of certain customers who made purchases on SEUK's eCommerce site between July 1, 2019, and June 20, 2020, was affected."
It's important to note that Samsung has confirmed  that only its UK customer base was impacted by this data breach. Customers in the United States, Canada, South Korea, and other regions need not be concerned.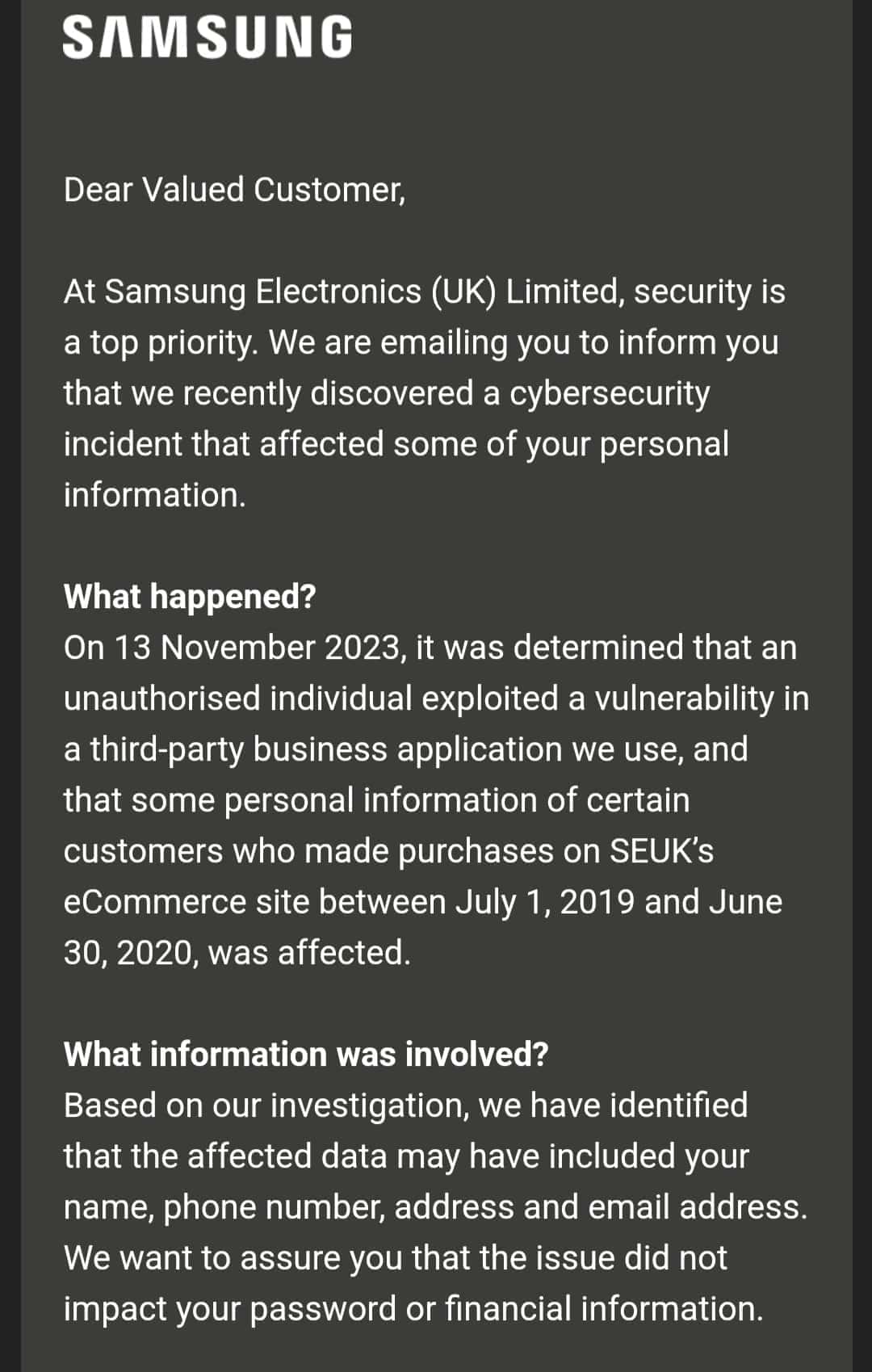 Samsung has taken the responsible step of reporting the incident to relevant authorities, including the UK's Information Commissioner's Office, which is responsible for enforcing the UK General Data Protection Regulation (UK GDPR).
This particular data breach is distinct from the one Samsung disclosed in September 2022, which affected only the company's US customers. That incident led to the compromise of private user data, including names, dates of birth, product registration data, demographic information, and contact numbers.
This latest announcement is part of a broader trend, as Samsung has a history of being targeted by hackers due to its extensive customer base, boasting over 992.4 million active Samsung smartphone owners in 2020. In a previous incident, the South Korean tech giant fell victim to Lapsus$ hackers, who leaked the company's source code online in March 2022.
Nonetheless, the recent Samsung data breach serves as a crucial reminder of the significance of safeguarding personal information. Consumers are advised to take proactive measures to protect themselves from identity theft and fraud, including the use of strong passwords, avoidance of phishing scams, and regular review of financial statements.