Google Play has introduced a new feature to help users find secure VPN (virtual private network) apps more easily. This new feature places an "Independent Security Review" badge right at the top of your search results when you're hunting for VPN apps on Google Play.
The badge isn't just for decoration – it's a sign that the app has undergone a thorough independent security review. And here's the cool part: if you want to know more about it, you can click on the "Learn More" option. It takes you to the App Validation Directory, where you can find all sorts of technical details that help you make smart choices when picking a VPN.
Checking if an app has the certification is as simple as pie. You can find it in the app's "Data Safety" section on the Google Play Store. If you spot the badge, it means the app has met specific security standards created in cahoots with cybersecurity experts.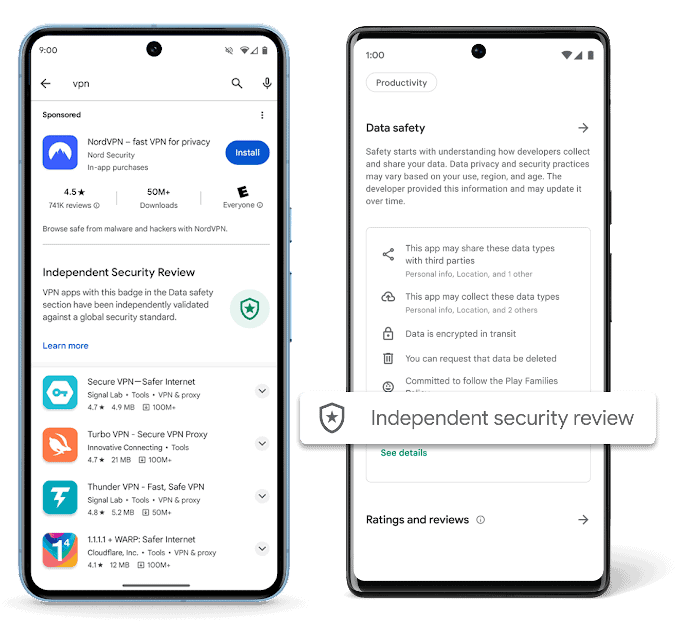 The badge also tells users that the app has been checked and given a thumbs-up by an independent third party and complies with the industry's standards for mobile security and privacy. It's a way of saying that the app's creators will deal with any security issues pronto.
In 2022, the App Defense Alliance (ADA) launched the Mobile App Security Assessment (MASA) program. It lets developers evaluate their apps based on strict global security rules. This program gives users peace of mind that app developers are following good practices for privacy and security. When an app passes the test, it can proudly display the badge in the "Data Safety" section. That makes it harder for sneaky cybercriminals to mess with the app and also improves its quality.
Although meeting "baseline security standards" can't guarantee that an app is 100% safe, the badge acts as a visual sign that it's been reviewed and given the green light.
This cool new feature is first available for VPN apps and certain app categories, with a focus on protecting sensitive apps. VPNs handle loads of data because they're mainly used for surfing the web and visiting websites. In a blog post, Nataliya Stanetsky from the Android Security and Privacy Team at Google pointed out that VPN providers like NordVPN, Google One, and ExpressVPN have already passed the independent security test and have the badge to prove it, showing their commitment to the MASA program. Google encourages more VPN app developers to get on board, making things more transparent for users.
This move by Google is all about taking the initiative to boost app security and safeguard user data. It shows how committed the company is to improving cybersecurity in the digital world. Many users might not realize the risks tied to VPN apps; some of them can gather sensitive information or, in the worst cases, sneak malware onto your devices.