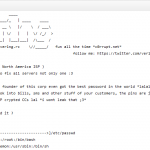 @Ver1ng, a member of C0rrupt.net has posted a thread and proof the he successfully exploited and had access to Telecom North America's servers.
The hubs he obtained access to: hubs, SS7, bills, sms and many others.  Ver1ng also leaked the usernames and passwords plain text, that allow you to get access to some of the major hubs.  Many of the passwords contained only alphabetical characters and where less then 6 characters long.
Ver1ng posted the leak  of database names and the plain text username and passwords on Pastebin.  This hack just goes to show you that nothing is private, anybody could be intercepting your text messages, voice males or any other personal data.
Some of the Pastebin leak:
                   ____                
___  __ __________/_   | ____    ____  
\  \/ // __ \_  __ \   |/    \  / ___\ 
 \   /\  ___/|  | \/   |   |  \/ /_/  >
  \_/  \___  >__|  |___|___|  /\___  / 
           \/  ver1ng.rc    \//_____/   fun all the time *c0rrupt.net*
						follow me: https://twitter.com/ver1ng

TELNA ( Telecom North America ISP )
Try next time to fix all servers not only one :3

Jean Gottschalk founder of this corp even got the best password in the world *lalala*
Its funny to look into bills, sms and other stuff of your customers, the pins are jokes right ?
and even the PGP crypted CCs lal *i wont leak that ;3*

Reason why i did it ?
cuz i can :3

[----------------------------------->]/etc/passwd
root:x:0:0:root:/root:/bin/bash
daemon:x:1:1:daemon:/usr/sbin:/bin/sh
bin:x:2:2:bin:/bin:/bin/sh
sys:x:3:3:sys:/dev:/bin/sh
sync:x:4:65534:sync:/bin:/bin/sync
games:x:5:60:games:/usr/games:/bin/sh
man:x:6:12:man:/var/cache/man:/bin/sh
lp:x:7:7:lp:/var/spool/lpd:/bin/sh
mail:x:8:8:mail:/var/mail:/bin/sh
news:x:9:9:news:/var/spool/news:/bin/sh
uucp:x:10:10:uucp:/var/spool/uucp:/bin/sh
proxy:x:13:13:proxy:/bin:/bin/sh
www-data:x:33:33:www-data:/var/www:/bin/sh
backup:x:34:34:backup:/var/backups:/bin/sh
list:x:38:38:Mailing List Manager:/var/list:/bin/sh
irc:x:39:39:ircd:/var/run/ircd:/bin/sh
gnats:x:41:41:Gnats Bug-Reporting System (admin):/var/lib/gnats:/bin/sh
nobody:x:65534:65534:nobody:/nonexistent:/bin/sh
libuuid:x:100:101::/var/lib/libuuid:/bin/sh
Debian-exim:x:101:103::/var/spool/exim4:/bin/false
statd:x:102:65534::/var/lib/nfs:/bin/false
account:x:1000:1000:,,,:/home/account:/bin/bash
sshd:x:103:65534::/var/run/sshd:/usr/sbin/nologin
mysql:x:104:106:MySQL Server,,,:/var/lib/mysql:/bin/false

[----------------------------------->]Thanks for all your databases ;)
[x]> 3usite
[x]> CDRS
[x]> OCN
[x]> ROUTING
[x]> TAP
[x]> TAXATION
[x]> Zynetix
[x]> admin
[x]> common
[x]> contacts
[x]> didstore
[x]> events
[x]> geoip
[x]> logs
[x]> mobiledevices
[x]> mysql
[x]> netfors_ss7
[x]> netfors_ss7_Aug92011
[x]> netfors_ss7_save
[x]> notes
[x]> opensips
[x]> realtimebilling
[x]> roamingagreements
[x]> rt3
[x]> security
[x]> telnamobile
[x]> telnaserver
[x]> telnaswitch
[x]> wholesaleblog