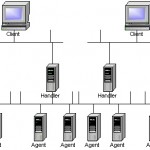 Federal officials prosecuted two men with utilizing a computer botnet to launch disabling ddos attacks on Amazon, eBay, and Priceline, and then boasting about them in online hacker forums.
Dmitry Olegovich Zubakha, 25, of Moscow, was apprehended in Cyprus this week for his part in attack that occured in June and July of 2008. Among those lasted three days and kept Amazon customers from finishing online transactions, according to an indictment unsealed Thursday. In the weeks that accompanied, Zubakha—who went by the personas  Eraflame, Dima-k17, and DDService—periodically visited hacker forums to accept responsibility for the DDOS (or Distributed-denial-of-service) assaults and to post stolen credit card numbers he had obtained, prosecutors in addition alleged. In the same forums, he marketed hacking services including for-rent botnets.
Sergey Viktorovich Logashov was a co-conspirator in the DDOS campaign, which also hit eBay and Priceline. This is all according to the 12-page indictment filed in US District Court in Seattle. At one point, he supposedly called Priceline and gave them his expertise in stopping the attacks, which were causing the websites to become unresponsive by bombarding them with more traffic and page requests than he website could handle. Using a fleet of compromised computers (a botnet), they overwhelmed their targeted websites by causing huge numbers of requests for "large and resource intensive webpages on a magnitude of 600 percent to 1000 percent of normal traffic levels," prosecutors wrote in the indictment.