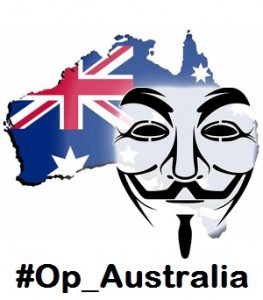 This week there has been gigs of data leaked from the AAPT.  The first and largest leak was around 40gb from AAPT, a popular Australian ISP company.  The data is said to come from a company who has been helping the Australian government monitor content.
SSO statement:
Users of AAPT services are advised that the internet service provider has confirmed a breach of its systems held at an external service provider, Melbourne IT.

Details are limited, however AAPT has confirmed that there has been unauthorised "access to some AAPT business customer data stored on servers."

There has been significant media attention, including claims of responsibility made by Anonymous, which indicate that the compromised data includes: names, agreements, phone records, IP records registrations, contracts, company information, contact persons, company bank accounts.

This is unverified information at this time.

Authorities are investigating and more information will be provided as it becomes available.

AAPT also stated it will be contacting affected customers.

What do I do?

If you are a customer of AAPT and have any concerns about the security of your data, contact AAPT directly.

Precautionary Measures:

Business customers of AAPT may consider monitoring financial activity for any bank accounts provided to AAPT.

Any passwords used to log on to AAPT's site can be changed.

Monitor AAPT and this service for updates.
Also as the SSO alert states this data has been obtained from well known web hosting and service provider MelborneIT who have before been in the headlines for all the wrong reasons.
Today, another 300k details have been leaked.  These  account details with names, addresses, geo locations and other information.
All the Pastebin links with leaked data:
bayfiles.com/file/irWn/MnBApp/tbl_VL_InternalDirectory.tar.gz
All leaks were once again announced from the @nas1gnal account and there has also been a list of leaks that have been let out from the APPT attack as well.
https://twitter.com/nas1gnal/status/229572027130998785
All data has/is being posted to Par_AnoIA, as said in this tweet:
https://twitter.com/Par_AnoIA/status/229587045792751616